The healthcare industry is the most complex filed as it deals with people's life, health services, and it is directly related to the social developmental index of a country and the community. Every country faces different challenges as their social, cultural, religious and political situations but in general rising costs, rapidly changing technology, complex ethical issues, the uninsured, and consumer demands for quality combine to offer a host of legal, political, economic, and administrative challenges. Various global challenges ranging from:
• Which should be the priority Primary, Secondary or Tertiary care?
• How can we deliver health care for the elderly and the people of limited income on equity basis?
• Does the health care system provide the best quality of care?
Our societies need solutions; we need professionals with administrative and technical skills and competencies to balance the competing goals of equity, ethics, cost, access, and quality. BMC's Healthcare Administration Department was a pioneer in undergraduate education in health administration, offering one of the first programs in the private sector of KSA.
CAREER PATH
Health administration
Owing to the increasing importance of health administration, the demand for trained personnel in hospital management has been constantly on the rise.
Health consultant
They can be health managers, health consultants; they can even join health insurance companies.
Other jobs.
They can be in specializing primary healthcare Units like nursing homes, mental health organizations, public health departments, and rehabilitation centers as managers. They can be in pharmaceuticals and hospital supply firms; medical software companies and hospital consulting firms are avenues, which are open for them. After gaining a few years of experience, one can even open a nursing home or hospital.
CAREER PATH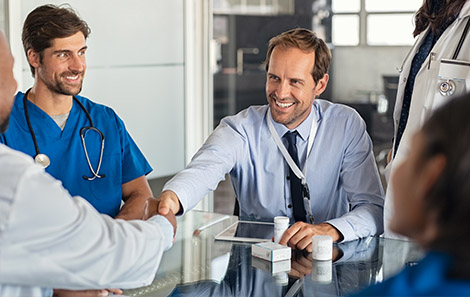 Hospital manager
The hospital managers can work in hospitals, outpatient clinics, and different health centers
Academic lecturer
Teaching jobs, healthcare graduates can always join as lecturers in colleges and universities.